Your access to inspiration and creativity can be found in here!
ICONS OF CREATIVITY offers a unique compilation of products and services to permit insight into future directions and inspire you!
Choose the package you feel is most suitable for you and your work.
Small investment with huge benefits:
- TREND FORECASTING BOOK no.34 forecast autumn/winter 2021/22 & beyond € 499,- (net)*
As Icons of Creativity customer, having purchased the printed version, you receive a free link to download for the following service applications:
-E-BOOK (PDF) on the go.
-Autumn/winter 2021/22 Pantone TCX COLOUR MATRIX with reference numbers of all trend themes via free download link for our customers. Print your preferred colours, create your personal mood boards and get inspired!
Please contact us to gain access: This email address is being protected from spambots. You need JavaScript enabled to view it.
ARE YOU ALREADY WORKING PAPERLESS?
The complete trendforecasting services of IOC no34 are available, too via download link!
YOUR EXTRA if only interested in the digital version:
- Enjoy a DISCOUNT of -10% on the regular price € 499,- until 30.09.2020 with the promo code IOC no.34 "PAPERLESS"!
- You will receive the whole package the E-BOOK IOC no.34 and the complete COLOUR MATRIX for autumn/winter 2021/22 with reference numbers to all trend themes via downloadlink!

Please, contact us directly for this special offer:

This email address is being protected from spambots. You need JavaScript enabled to view it.



---
INDISPENSABLE!
- COLOUR MATRIX
This season's trend book is not for you? But the colours are!
Particularly the colour combinations for the 2021/22 autumn/winter season point to some of the most important trends yet to come!
The complete autumn/winter 2021/22 Pantone TCX COLOUR MATRIX with reference numbers of all trend themes and a directional guideline of all trend themes via download link or CD, for your convenience!
Print your preferred colours, create your personal mood boards and get inspired!
Order the Colour Matrix only, for 149,- (net) and receive it as a download link or CD!
Shipping within the EU is as always free of charge, prices for other destinations, upon request.
---
- INTERNATIONAL CITYTREND CDs
Thousands of well selected pictures and attractive pieces of information await you: shoes, accessories, fashion, decoration, great ideas from Europe's leading fashion & style cities. 6 Citytrend CDs will be sent according to topicality during the season.
→ For ICONS OF CREATIVITY no. 22 book owners: 6 CDs/€ 199,- (net)*
→ You don't want to get a book but you are interested in INTERNATIONAL CITYTRENDS: 6 CDs for only € 289,- (net)*
*Free shipping with in the EU. Delivery costs for all other destinations on request.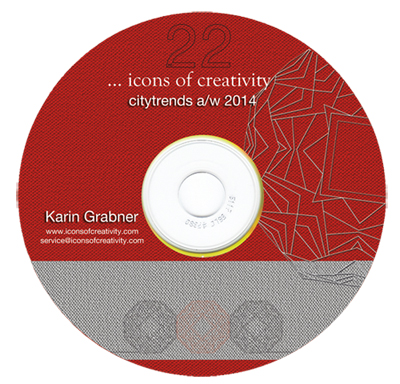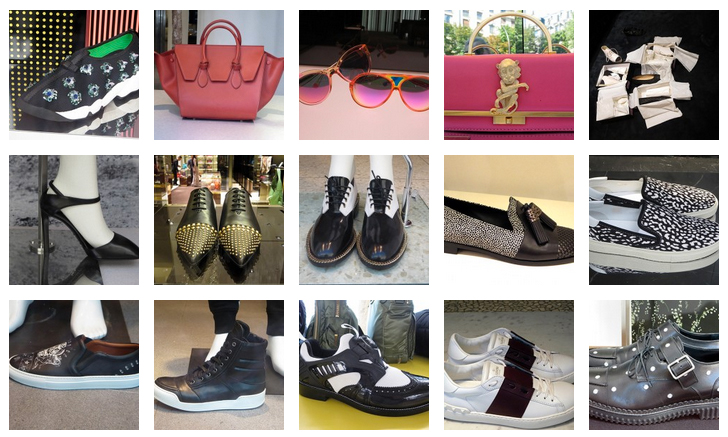 *How to order? How to receive? How to pay?
Just click on the ordering link of your choice, and fill out the pre-built email. Please don't forget to fill in the VAT identification number if you are an international company, so that no tax will be added to the international invoice.
We'll get back to you as quickly as possible to make sure that your ordered package and your correct invoice will be sent promptly.After we receive your payment, your ordered products will be directly sent to the stated address in a safe package by courier**.
**All deliveries with in the EU will be free of charge.
**All other destinations in the world upon your request.
**no strings attached.
Anything else you'd like to know or do you have any requests?
Please contact us: This email address is being protected from spambots. You need JavaScript enabled to view it.

We'd love to get into contact with you!
---
- CONSULTING SERVICE & INDIVIDUALISED SUPPORT

Karin Grabner and her team is happy to help!
Whether we arrange a dialogue via Skype or email, or organise an in-house meeting that ranges over a longer period of time, we'll find the most suitable way to enhance your success!
Depending on your request, we also assemble a professional team to ensure a successful outcome to your purposes.
Get directly back to Karin Grabner for further information: This email address is being protected from spambots. You need JavaScript enabled to view it.
She is more than happy to help.
Prices will be set according to the extent of the project – the information request is free of charge.

---
- AN EXTRA FOR SHOELOVERS
FREE NEWSLETTER
Get a taste of future trends and be one step ahead with Icons of Creativity.
Sign up: www.iconsofcreativity.com